Upcoming Meetings/Events:
Next Executive Board Meeting is March 6, 2018 at 6pm.
Next General Membership Meeting is March 13, 2018 at 7:00 pm
.
Elections for the Executive Board of FOP Lodge #1 were held on Tuesday, 10 October 2017.
The Executive Board for FOP Lodge #1 for the 2017-2019 term are as follows:
President: Harold Bozeman
Immediate Past President: Michael Lawson
Vice-President: Dennis Leahy
Recording Secretary: Charles Puit
Financial Secretary: Michael Hayman
Treasurer: Ralph Hauck
Trustees: Greg Ciotti
Harvist Smallwood
Justin Kane
Mike Rodick New Castle City PD Trustee
Charles Manelski WPD Retirees Trustee
Vacant Elsmere PD Trustee
Vacant Newport PD Trustee
Conductor: Alvin Boardley
Chaplin: Michael Fossett
Guards: Vincent DiSabatino
John Fleming
State Trustee: Dennis Leahy
Parliamentarian: Fred Chaitt
---
Member of the Year 2013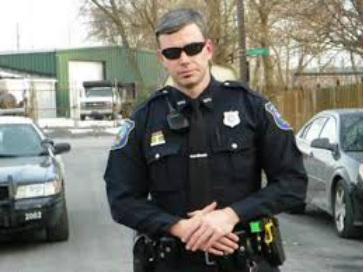 Officer Justin Wilkers- Lodge #1 Member of the Year 2014
---
Past President Michael Lawson passes the gavel to President-Elect Harold Bozeman after being sworn in as the new President for FOP Lodge #1.
Member of the Year 2012

Sgt. Joseph Szczerba EOW 9/16/11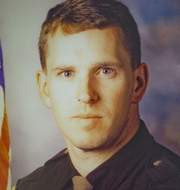 Our prayers and thoughts go out to the family and friends of Sgt. Joseph Szczerba, an 18 year veteran of the New Castle County Police Department. Sgt. Szczerba apprehended a fleeing suspect in the early morning hours on 9/16/11 and was killed in the line of duty from a stab wound he sustained during the apprehension. Sgt. Szczerba was doing what he did best, protecting the citizens of New Castle County. Sgt. Szczerba is a true hero, we salute you for your bravery, service and dedication to the citizens you protected on your watch, you will be greatly missed............. but never forgotten!
---
Lodge 1 represents in Police Unity Tour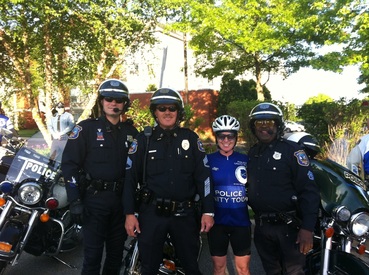 Art Gliem, Robert Transue, Andrea Janvier, John Brown
Lodge 1 member, Andrea Janvier, recently completed the 320 mile bike ride from Florham Park, NJ to Washington, DC during the annual Police Unity Tour. It's a combination of sworn and retired officers, prosecutors, and survivors of individuals killed in the line of duty. This year is Andrea's 3rd year completing the long ride. Janvier is the sole rider from Lodge #1 and is responsible for raising $1750.00 for the tour this year. This year, over 1400 riders took part, from all over the country including Alaska. The proceeds from the tour go to maintaining the Police Memorial in Washington, DC, and to the families of fallen officers. This year the tour raised 1.5 million dollars, most ever! Since the first tour that began 15 years ago, the proceeds raised has been over ten million dollars. Last year the memorial was refurbished and all names were reinscribed. Andrea said riding in the tour is gratifying and just a small part that she can do to remember the heroes who have made the ultimate sacrifice while in the line of duty. The vigil itself is very moving and hopes all officers get a chance to visit the memorial!

Pictured in the photo with Andrea are FOP Lodge 1 members Art Gliem, Robert Transue and John Brown. The tour traveled through Wilmington on May 11th with a procession of officers riding down King Street.


---
FOP JOURNAL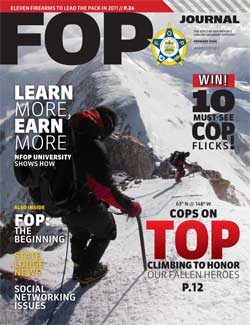 click on magazine for latest edition
---

ABOUT US

Welcome to the Fraternal Order of Police Lodge #1 located in Wilmington, Delaware.

The FOP was first introduced in Delaware on September 20, 1965 with the formation of Wilmington Lodge #1. The Delaware State Lodge was established somewhat later, in 1967. Lodge #1 represents over 700 sworn and retired law enforcement officers in the first state.

Our lodge proudly represents officers from the Wilmington Police Department, Elsmere Bureau of Police, New Castle City Police Department and the Newport Police Department.

The Fraternal Order of Police is the world's largest organization of sworn law enforcement officers, with more than 327,000 members in more than 2,100 lodges. We are the voice of those who dedicate their lives to protecting and serving our communities. We are committed to improving the working conditions of law enforcement officers and the safety of those we serve through education, legislation, information, community involvement, and employee representation. No one knows the dangers and the difficulties faced by today's police officers better than another officer, and no one knows police officers better than the FOP.

---